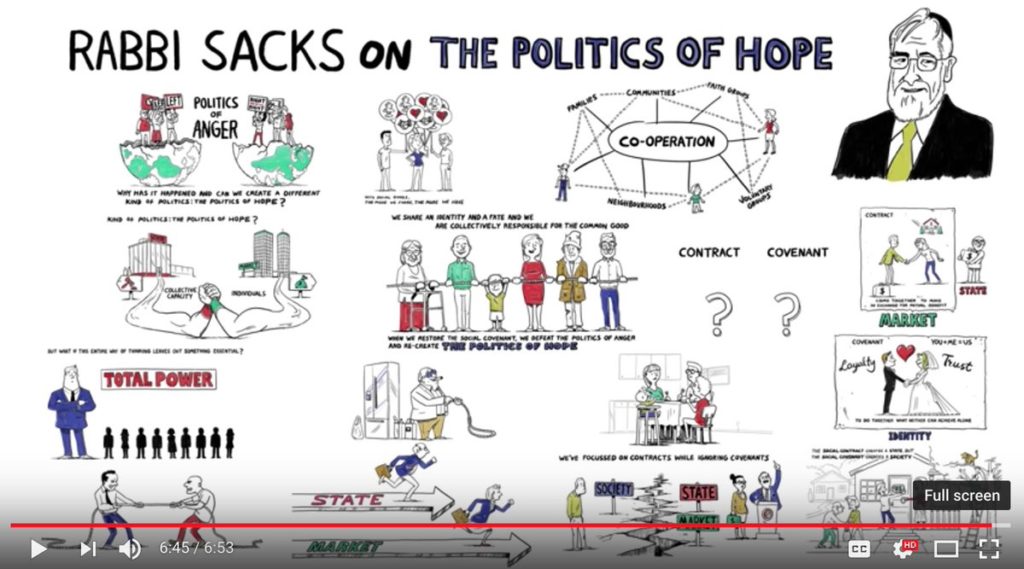 Here, we want to share with you a six minute video in which Rabbi Jonathan Sacks explains the drivers behind polarisation and division, and highlights how we as people of faith can be a part of the solution. To view the video, click the image below.
As social and political confusion reigns, Rabbi Sacks examines why societies in Europe and America have become divided, with a growing cleavage between left and right leading to a rise in populist parties, with extremes at both ends of the political spectrum and the centre ground being abandoned.
This is what he calls "the politics of anger". He explains why this has happened and what we can do to create a different kind of politics: "a politics of hope".
He explains the relationship between society, the market and the state, and the crucial role of civil society institutions.
He argues that if we shift from the social contract (managerial) to a social covenant (relational), we will defeat the politics of anger and restore the politics of hope.
Rabbi Sacks lays out how we can build a common life together, how we are bound by bonds that go deeper than self interest and how we are collectively responsible for the Common Good.
His leadership was one of the great inspirations for T4CG's work. This powerful little film features in our training and schools resources, with his kind permission.
We mourn the death of Rabbi Lord Jonathan Sacks with gratitude for his extraordinary life. We have lost a great man of faith, love, wisdom and courage. May his name be blessed.
Jenny Sinclair
To view the video, click the image below.
Lord Jonathan Sacks was a British rabbi, philosopher and scholar of Judaism. He served as the Chief Rabbi of the United Hebrew Congregations of the Commonwealth from 1991 to 2013. As the spiritual head of the United Synagogue, the largest synagogue body in the UK, he was the Chief Rabbi of those Orthodox synagogues. Since stepping down as Chief Rabbi, he served as the Ingeborg and Ira Rennert Global Distinguished Professor of Judaic Thought at New York University and the Kressel and Ephrat Family University Professor of Jewish Thought at Yeshiva University. He was also appointed as Professor of Law, Ethics and the Bible at King's College London. He won the Templeton Prize for 2016. Lord Sacks died on 7 November 2020.
You may also be interested in these longform articles by Lord Sacks: Rediscovering Our Moral Purpose and Cultural Climate Change.
Discover more at www.rabbisacks.org