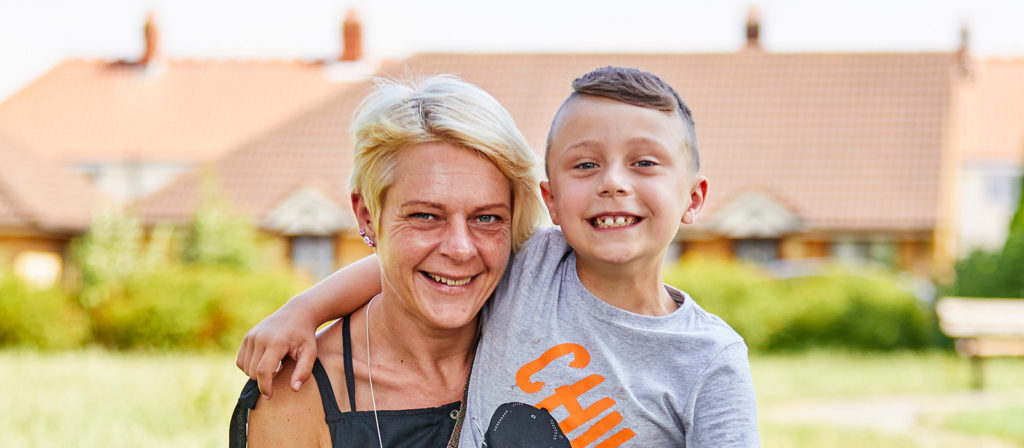 How many good ideas come to fruition? An idea for a project to feed children at a school in Loughborough has taken off and is now set for expansion. Parishioners, schools, parents and volunteers came together in a successful initiative that not only meets a social need but is fun for all involved. Catherine Brady, Chair of St Mary's Grub Club, explains more.
More than food: feeding children, building community, finding purpose
Our project had simple beginnings. A conversation to discuss social action took place when a few of us in our church decided we had to 'do something' after hearing from a parishioner who works with disadvantaged families. We felt our faith was compelling us to act. As one parishioner said, 'Why do it? …. Because we can!' We decided to start by talking to our local school, St Mary's Catholic Primary, in Loughborough.
Our idea quickly took off and extended much further than we anticipated. From conception to opening – in just four months – we held 11 two-hour lunchtime sessions during the summer holidays. Children came from across Loughborough. We served approximately 380 hot and nutritious meals, and not only for children but to everyone who came, including parents and volunteers. We offered more than food: 43 children from nine schools took part in crafts, games, reading, football coaching and other activities, as well as enjoying a three course meal. Each meal cost us just £1.39 on average. But how did this come about, and why was it so valued?
The need
In our early discussions, we had looked at a new Child Poverty map of the UK, published by the End Child Poverty coalition and which included data compiled by Loughborough University. The figures revealed many constituencies in the UK where more than half of children were growing up in poverty – compared to one in ten in other areas. They also show that some of the most deprived areas of the UK have seen the biggest increases in child poverty since December 2015. Our town includes two of the most deprived areas, where, as the data shows, 4,302 children live in poverty. That's more than one in five of the children living in our town.
We realised there were many struggling families in our own neighbourhoods who were invisible to us. When we learned that children were going hungry in the school holidays, we resolved to target our energy.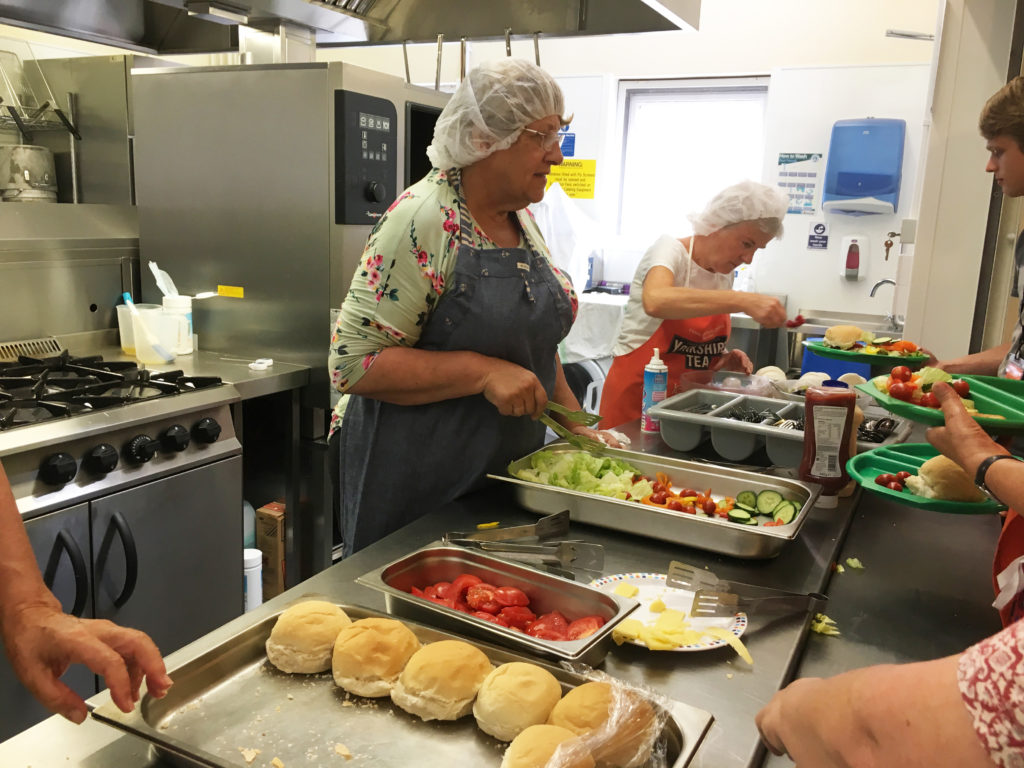 Our response
We did our research and quickly realised the size of the undertaking. But we realised that between us we had the skills to move forward.
We put a team together: chair, treasurer, communications link, schools link and volunteer coordinator. The next step was to draw up a constitution, critical for any funding bids, but also to focus our efforts. We secured the permission and support of our parish priest, although we did not expect him to have any practical involvement. We worked with the head teacher of St Mary's Primary School and with Leicestershire County Council, who manage the school kitchen, who gave permission to use their kitchen and dining areas, adjacent to St Mary's parish hall. Critically, we held conversations with the parish safeguarding representative and treasurer of the finance committee to check on the legal boundaries of what we were attempting to do and to confirm insurance provision.
Whilst this may look like a lot of steps, what we have taken away from it all is that parishes do have the people, the skills and the resources. It just needs to be tapped into in the right way.
As it was the first venture of this kind for all of us, we registered with Make Lunch who trained and supported us during the early stages: they provided a framework we could build upon. Our intention was always to reach beyond our Catholic community but to start with, we wanted a manageable number of children. Soon, four primary schools were involved: St Mary's Catholic Voluntary Academy, Sacred Heart Catholic Voluntary Academy, Loughborough CofE and Cobden Street School.
Once we were open, word got round and we were receiving children from nine schools. We initially thought we should work with children who qualify for pupil premium but, in discussion with head teachers, we realised there would be other families who need help during the school holidays too. So it was left to the discretion of the heads whom they referred. Children were registered and their details taken, including any dietary restrictions.
To be successful we had to publicise the initiative, engage parishioners and work hand in hand with the schools and the local community. Two of us spoke from the pulpit at the end of Mass and immediately money started to pour in. With an initial boost from the parish account and donations from many generous parishioners, including an initial £2000 from a local private school, funding proved not to be the problem we thought it might have been.
'Let everything be open to God; turn to Him in every situation.

Do not be dismayed for the power of the Holy Spirit enables you to do this…'
An open evening for volunteers attracted about 50 people of all ages, all wanting to contribute in some way. Volunteers were needed for shopping, cooking, running children's activities, meeting and greeting, washing up and a host of other tasks, large and small. There were 18-year-old volunteers who wanted to get involved during the holiday period after leaving school. We had rotas for each session but some volunteers were so keen they turned up more frequently. Teachers also volunteered, including St Mary's headteacher, giving up some of their summer break to come along and run activities. Four of our volunteers are Foundation governors at local Catholic schools, others have links with other schools.
The diversity of our volunteers shows a renewed sense of community spirit, bringing together the young, retired, local students and many people who would not normally get involved. Grub Club has been a process led by parishioners working together and building bridges within and across different communities in Loughborough.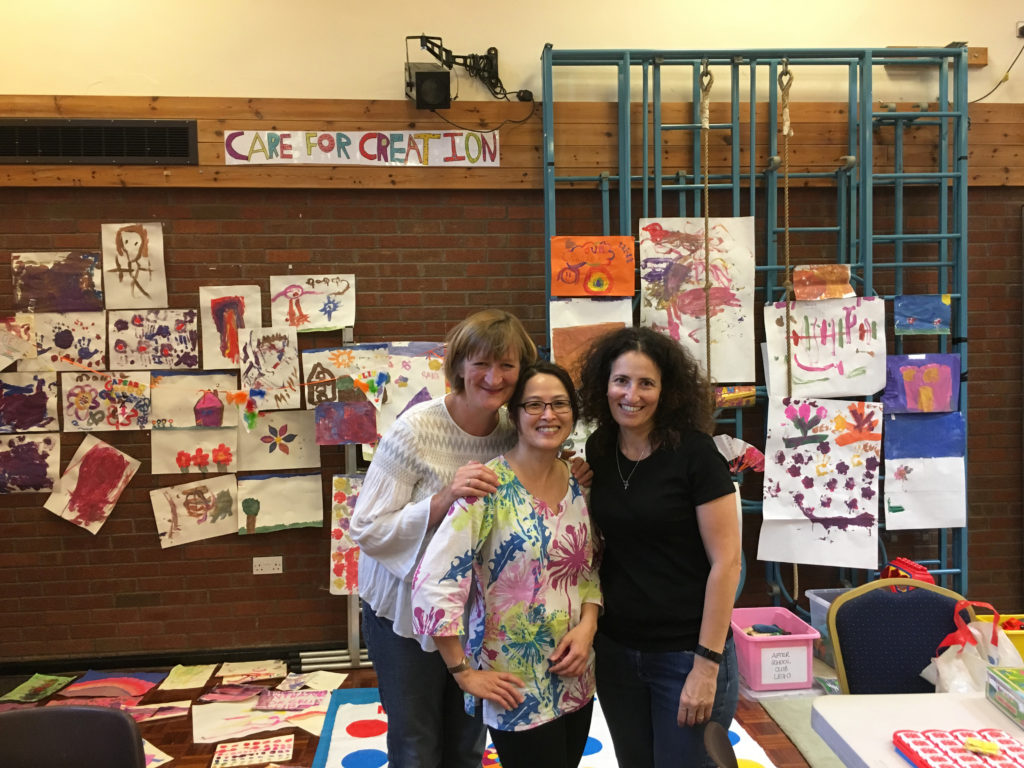 Opening
At the start there were only a few children but with each session the numbers increased. We never knew how many children to expect, but like the feeding of the five thousand we always had enough food. Macaroni cheese and veggie chilli were always popular. We felt it was important to always provide a hot main course. As a starter we served raw fruit and vegetables. Children were so hungry that they scoffed the lot. Dessert was usually more fruit, yogurt and ice cream.
Volunteers sat with the children and their parents, building relationships and bonds across the group. It has been an important part of the effort to look after our volunteers too, feeding them and thanking them. Everyone was welcome and there was always a great buzz in the room.
Before and after lunch a variety of activities were offered: crafts, painting, games, a reading corner. There was always a colourful gallery of artwork on display. Outdoor sports were particularly popular during a very warm summer. A young professional football coach was one of our early volunteers.
Grub Club is about more than feeding children: we are using people's talents and gifts and bringing people together to foster the Common Good.
Each child was greeted with a smile and a Grub Club badge. Although some of the children were a little shy at first they soon got stuck in with the activities on offer, from team activities outside with the sports coach, to playing Scalextric and making friendship bracelets inside. Every child that came to Grub Club took part in designing bunting which incorporated their name, we tied these together and hung them around the room. All of the paintings produced were put up in our very own Grub Club Art Gallery, which seemed to grow by the minute.
These small steps brought great pride to the children and gave their work and involvement a purpose. There was something for everyone, and parents who stayed also got involved. Everyone seemed to enjoy themselves – the atmosphere was friendly and relaxed. Not least, we found that sitting and eating together has been a key factor – not only is the significance of a shared meal anchored in scripture, but in practice, we've seen that its impact on people's sense of belonging is transformational.
The future
We will carry on feeding children and we are now looking to support more families by expanding the number of schools we are working with. We have a summer trip planned.
Now that the initiative is established, we are looking for ways of involving parents in running Grub Club. It is important that we help parents to build skills and become more involved. Our aim is to give people a hand up, not just a hand out.
And we want to work with other local institutions – for example we have joined forces with the local Charnwood Poverty Action Group. By working together, we will be more effective in our efforts to support families.
Our experience has revealed how effective a parish can be when playing its part in the community. We have all benefited from building bridges with our neighbours who were previously invisible to us. We've discovered we have the people, the skills and the resources. Putting our faith into practice in such a tangible way has massively enriched the sense of purpose in our church.
In a way we feel this is just the start. There's so much we can do.
Catherine Brady
After a first career in teaching, Catherine Brady started a training design company, and for the last 30 years has worked with many clients in the UK and internationally, including Marks & Spencer, Nuffield and others. Catherine is also co-founder and Chair of Grub Club, a volunteer-run initiative in her parish feeding children in school holidays. Passionate about releasing the social action potential of Catholic laity, Catherine believes capacity can be built by strengthening church-based training and formation. Catherine works with T4CG on a pro bono basis as Director of Resource Development.
Header photo: TLG Make Lunch – filling the holiday hunger gap across the UK. Photograph by Transforming Lives for Good (TLG), used with permission. www.tlg.org.uk. Other photos: thanks to Grub Club.