Welcome to the subscribers' area of the website. If you have completed the induction training, you now have access to all the resources you need to run the Common Good Schools programme. If you have signed up for the programme and are awaiting training, the resources will be available to you as soon as your training is complete.
The Common Good Schools programme has been created by Together for the Common Good: a small charity working to strengthen the bonds of social trust and designed in partnership with teachers and other educational professionals.
The Common Good is an ancient idea that resonates across many cultural traditions, from shalom to Aristotle. This programme draws from the Christian understanding of the Common Good, rooted in Catholic Social Teaching.
However, putting the Common Good into practice requires a coherent set of principles. Together for the Common Good has developed a simple framework called 'Common Good Thinking'. These principles are universal and yet are rooted in the gospel.
The Common Good principles
At the heart of Common Good Thinking is a coherent framework of principles to put into practice in our every day lives. 
The Common Good Principles weave throughout these resources. The table opposite
shows where they are covered in each lesson: Students associate the principles with
the icons in the slides, on the postcards, stickers and poster. Download a copy of the table HERE
---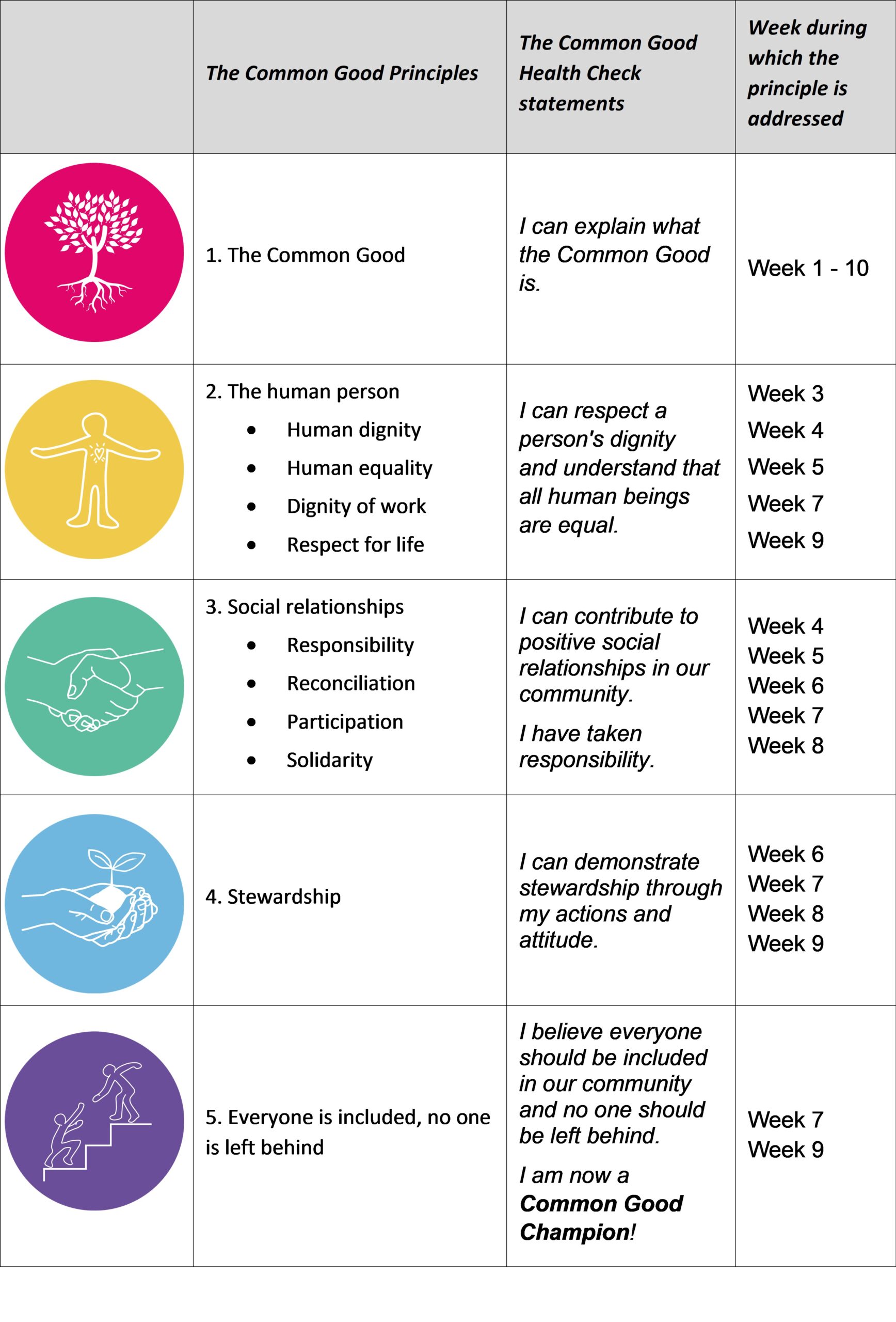 Impact on students & school
We know that having a positive impact on students is important to your school. It's also important to us at Together for the Common Good.
As your partner, we want to equip you with tools to help you measure impact. These will include:
Student health check card which allows students to track and celebrate their own progress.
ENTRY and EXIT questionnaires for students to complete. These can be accessed via the Lesson 1 and Lesson 10 slide presentations.
Baseline and Impact surveys completed by staff during Induction Training and towards the end of the ten-week programme.
---