Queen Elizabeth and the Common Good
The late HM Queen Elizabeth II, in the manner of her life and her death, was an inspiration for us all. In terms of her moral character, she was a model of virtue in devoting her life to public service.
In this respect her life has many resonances with T4CG's Common Good Schools 10-week programme which encourages young people to take responsibility within their local community. The resource is designed to support 11-16 year olds to value community and each other, and enables them to learn to put the principles of the Common Good into practice.
In honour of Queen Elizabeth II, T4CG has created a free, short classroom resource in powerpoint format for young people to engage with ideas around personal responsibility, relationships and service to the community. This 5-minute presentation is an opportunity for students to pause, reflect and pray. Please note the presentation contains transitions. Download via the button below.
The 10-week Common Good Schools programme
Meanwhile, the full Common Good Schools programme is a linked set of ten lesson plans, ten assemblies and community engagement activities designed for KS3 and 4 (and can be scaled up for VI form, or down for Year 6). Each with four or five activities to choose from, the lesson plans are flexible and lend themselves to suit pretty much any time slot, from RE lessons, to PSHE sessions to a short Tutor time slot.
The programme helps young people learn a sense of mutual obligation and how to handle responsibility with integrity for the benefit of the community in which they live. By fostering local engagement, the programme helps to position a school rooted its local neighbourhood as a force for the Common Good.
Grounded in Christian social teaching but communicated in non religious language, this programme enhances moral, spiritual and character education, encouraging independence of thought and enabling young people to discern their unique vocation in relationship with others.
The inspiration for the resource comes from five years of partnership work with Alsop High School in Liverpool. Alsop won the WOW Educate Award in the North West, "for outstanding work to foster community cohesion and develop pride in the wider community of North Liverpool." They won other awards too, and were shortlisted for a TES Schools Community Impact Award.
The Common Good Schools programme is currently getting going again after pausing during the pandemic. Schools across the country are getting involved, including SEN schools who can use our specially adapted version for SEN children. Young people are growing in terms of undersanding their own value in the context of their community. There is a growing sense of purpose as they learn to take responsibility in building the Common Good together and learn the importance of relationships.
Learn more about COMMON GOOD SCHOOLS and get involved here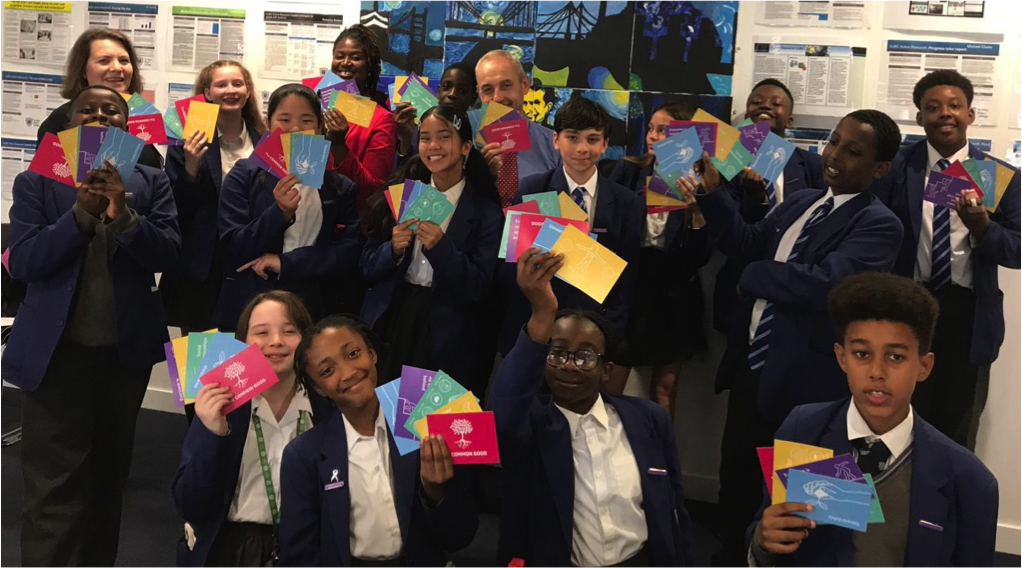 Photo courtesy of St John Bosco College, Battersea.
Header photo by Unknown Author is licensed under CC BY-NC-ND