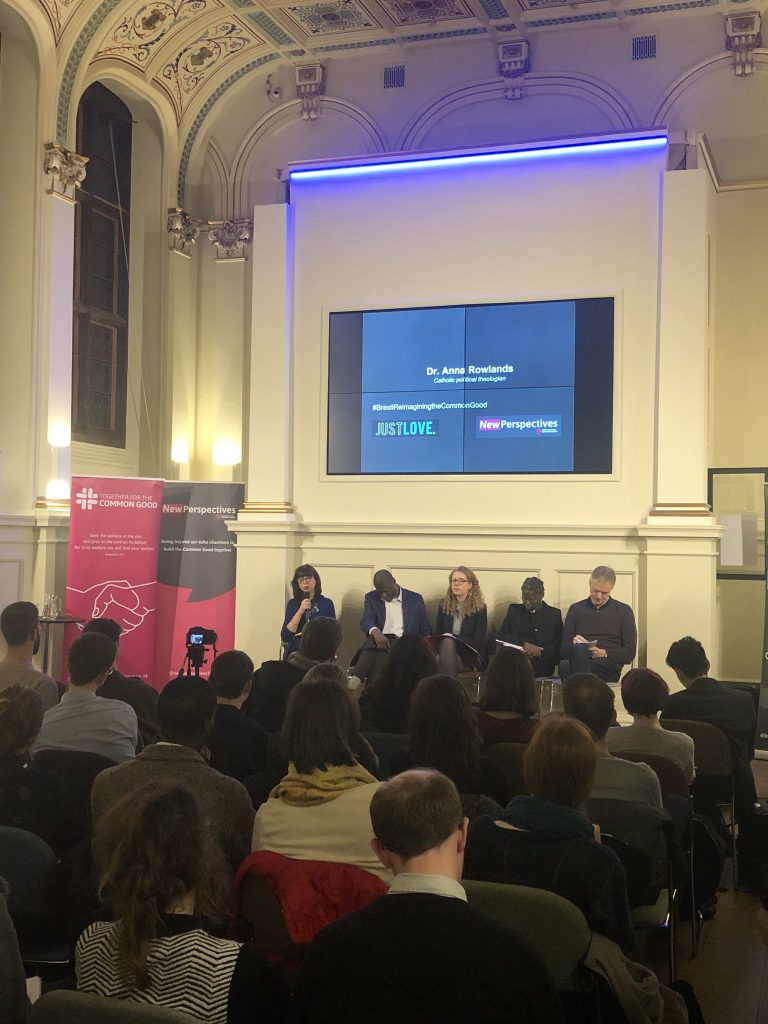 T4CG's young people's network, New Perspectives, held a debate on 16 December for young Christians of all traditions to reimagine the Common Good for our nation post Brexit. Video of the debate will be posted here soon.
Three and a half years on from the EU Referendum, the United Kingdom remains divided. What does it look like, in the face of such intractable division to seek the Common Good? What inspiration can we draw from the Christian tradition to heal divides in our nation and find a way forward?
We were delighted to be joined by a panel of brilliant speakers for an evening of 'disagreeing well' to discuss how we as Christians might work for a Common Good vision for the future of Britain – irrespective of how Brexit turns out.
Our panel included David Goodhart, commentator and author of 'The Road to Somewhere', Tim Farron, Liberal Democrat MP for Westmorland and Lonsdale, Dr. Anna Rowlands, Catholic political theologian, the Ven. Karen Lund, Archdeacon of Manchester and Kunle Olulode, Director of Voice4Change, which represents the BME voluntary sector. The debate was chaired by Miriam Brittenden, chair of New Perspectives.
This event was organised by T4CG's New Perspectives Network and the Just Love Politics Network and kindly hosted by the London Jesuit Centre. The event was videoed thanks to our friends at Capital Mass.
The New Perspectives Network is a recently launched and emerging network of the charity Together for the Common Good (T4CG), which exists to gather young people from different political traditions, church backgrounds and spheres of work to meet and be built up and encouraged in their work for the Common Good. Key to the vision of the network is to create welcoming spaces for nuanced political discussion and debate.
Just Love is a charity which seeks to inspire and release Christian students to engage with social justice issues, and Just Love Politics is a group made up of Just Love alumni who work in politics and public life.