As the fallout of the pandemic sets in, life will get tougher for many. We need more relational ways of living, ways that build strength in and across communities for the long term. We can do this by building relationships with our neighbours across different backgrounds and opinions, and between our local institutions. Altogether this strengthens civil society and generates a stronger "civic immune system" capable of upholding our shared humanity and resisting the forces that undermine our common life. This is what authentic community organising aims to achieve.
This video learning series was produced by our friends at MetroIAF (the Industrial Areas Foundation, USA) and the Common Good Foundation (UK) to strengthen their own practice. We're delighted to have their permission to share this with you. Please send any feedback to info@togetherforthecommongood.co.uk.
You will find pre-readings provided as pdf downloads [click on the italic pink links].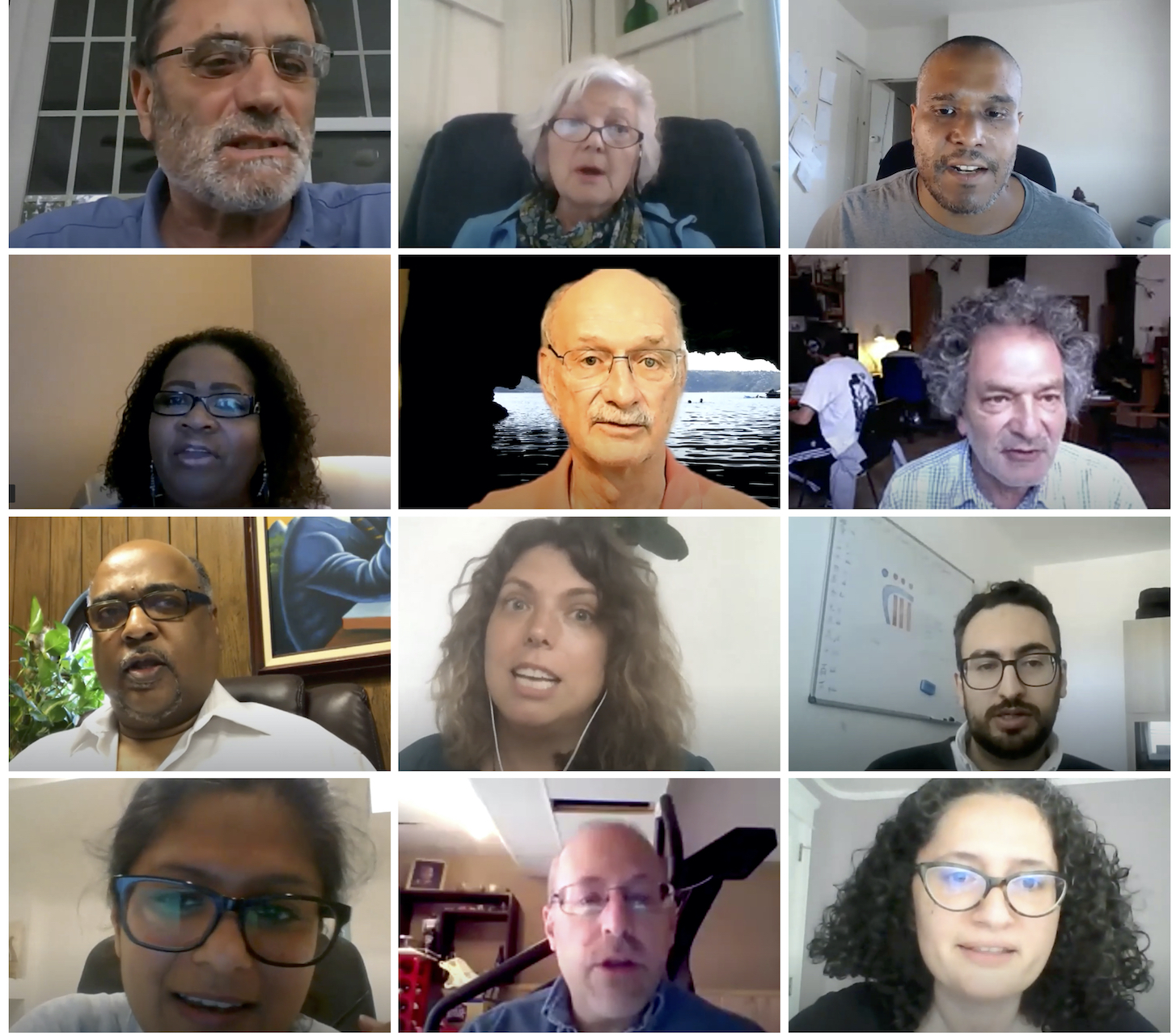 Session 2: THE COMMODIFICATION OF LAND AND LABOUR (30/4/20)
Speaker: Leo Penta. Pre-reading: The Great Transformation: The Political and Economic Origins of Our Time by Karl Polanyi. Please Read: Chapters 4 & 6 and the Foreword by Joseph Stiglitz. For those with more time and interest, Leo would also recommend all of Part II (chaps 3-10) + chap. 21. Purchase Kindle version here.
Session 4: CATHOLIC SOCIAL TEACHING on WORK (14/5/20)
Speaker: Kathleen O'Toole. Pre-reading: Pope John Paul II's Encyclical on Work: Laborum Exercens - please read PART I: INTRODUCTION and then PART IV: THE RIGHTS OF WORKERS to the END (Section 16 - end). Also please read: What Work Is a poem by Phillip Levine.
Session 6: FIVE ORGANISERS' PERSONAL REFLECTIONS (28/5/20)
Reflections on the previous five sessions with community organisers: Amy Vruno, Dean Deida, Rev Lionel Edmunds, Sami Atris and Tanushree Isaacman. No pre-readings.
Session 7: ARENDT I: THE POLITICS OF ACTION (4/6/20)
Speaker: Leo Penta. Reflections: Rev Dr Carletta Allen and Lina Jamoul. Pre-reading: Hannah Arendt's Essay On Violence. This work was written in 1969 against the backdrop of the student revolution and urban unrest of 1968 as part of a debate about the role of violence in protest movements. It has lost none of its relevance for today.
To get to know Hannah Arendt as a person, it is very worthwhile to watch the famous interview with her on German TV. Günter Gaus, the interviewer, called it "The best conversation that I ever had." View video here: (German with English subtitles). You can find a summary video of her thinking here.
You can also listen to a 30 minute 'BBC Great Lives' radio profile of Hannah Arendt here.
Session 8: ARENDT II: HUMAN AGENCY (11/6/20)
Speaker: Leo Penta. Pre-reading: a selection from Hannah Arendt's The Human Condition. Please read Chap. I, Section 1: Vita Activa and the Human Condition; Chap. II, Section 7: The Public Realm: The Common; Chap. V; Section 24: The Disclosure of the Agent in Speech and Action; Section 28: Power and the Space of Appearance; Section 30: The Labor Movement.
Session 9: ABOUT POLITICS (18/6/20)
Speaker: Lord Maurice Glasman. Pre-reading: the first chapter from Bernard Crick's book In Defence of Politics. We encourage you to purchase the whole book.
Session 10: THE PROPHETIC IMAGINATION (25/6/20)
Speaker: Leo Penta. Pre-reading: chapters 1 and 7 of The Prophetic Imagination by Walter Brueggemann, who uses the Hebrew and Christian scriptures to contrast the "royal conscious" of the dominant culture with what he terms "prophetic criticizing" and "prophetic energizing" and applies his analysis to the practice of ministry. The e-book can be purchased here.
Video coming soon.