Walking together
Church members around the country are now running our Here: Now: Us People common good course. The three stage journey is helping them refresh their sense of mission and encouraging them as they make stronger connections in the neighbourhood.
Here: Now: Us People was created to help the local church play an authentically Christian role in civic and spiritual renewal. Despite their vulnerability, churches have a vital ingredient to bring to the places where they are situated, by renewing their covenantal relationship with people and with place.
At the time of writing (late November 2021), around twenty churches are involved, in cities and towns from Grimsby to London, from Essex to Merseyside, from Kent to Derby and beyond. So far groups coming on board are mainly Catholic and Anglican, and churches from Free Church traditions are preparing to get involved next year.
The course is designed to help a local church rediscover its vocation in relation to place and emphasises the importance of building local relationships. Christians who go on this journey together also begin to discern their unique calling in everyday life and where they live and work.
Typically groups doing the course consist of 12-20 people, usually from a single church or organisation, while in some cases two or more neighbouring parishes are joining together. Each group has a good mix of participants from the local area. No one is expected to have any theological formation or experience. The activities are highly interactive, prayerful, fun and inclusive.

Churches are using the journey to develop the civic vocation of their people, and to engage more effectively for the benefit of the surrounding neighbourhood. But each church has its own individual aims too – for some, it is offering an opportunity to build community, for others it is a way to engage young adults in the parish, while others are regarding it as a means to refresh parish life after the pandemic. In every case, churches are joining this journey to contribute to civic renewal and build common good in their local community and workplace.
Each cohort is supported by T4CG's Project Leader, Chris Knowles. Chris praised the dedication of the partners who have enabled activities to flourish since it became possible to meet in person:
"the last 18 months have been a challenge for us all, but the commitment of the partners has been great to see and our times together have been hope-filled opportunities. Partners have been really creative in light of the pandemic and the changing aspects of their local contexts."
Some of the Catholic parishes are finding that Here: Now: Us People is helping them to prepare for the 'synodality' process initiated by Pope Francis – a concept quite different from the Anglican understanding of the term. Here, it means 'walking together', ordained and non-ordained, as the whole people of God, to listen to the Holy Spirit to re-energise the local church. Deacon John Fegan from the Wirral said:
"A number of strands are coming together for us. What started as raising the profile of Caritas Shrewsbury in the parish has now joined with rebuilding our parishes after the last two years of restrictions, facing up to the reality of fewer priests, and now trying to build on the opportunities provided by the focus on Synodality. The Here: Now: Us People sessions are helping us to see the importance of considering the common good in all our conversations."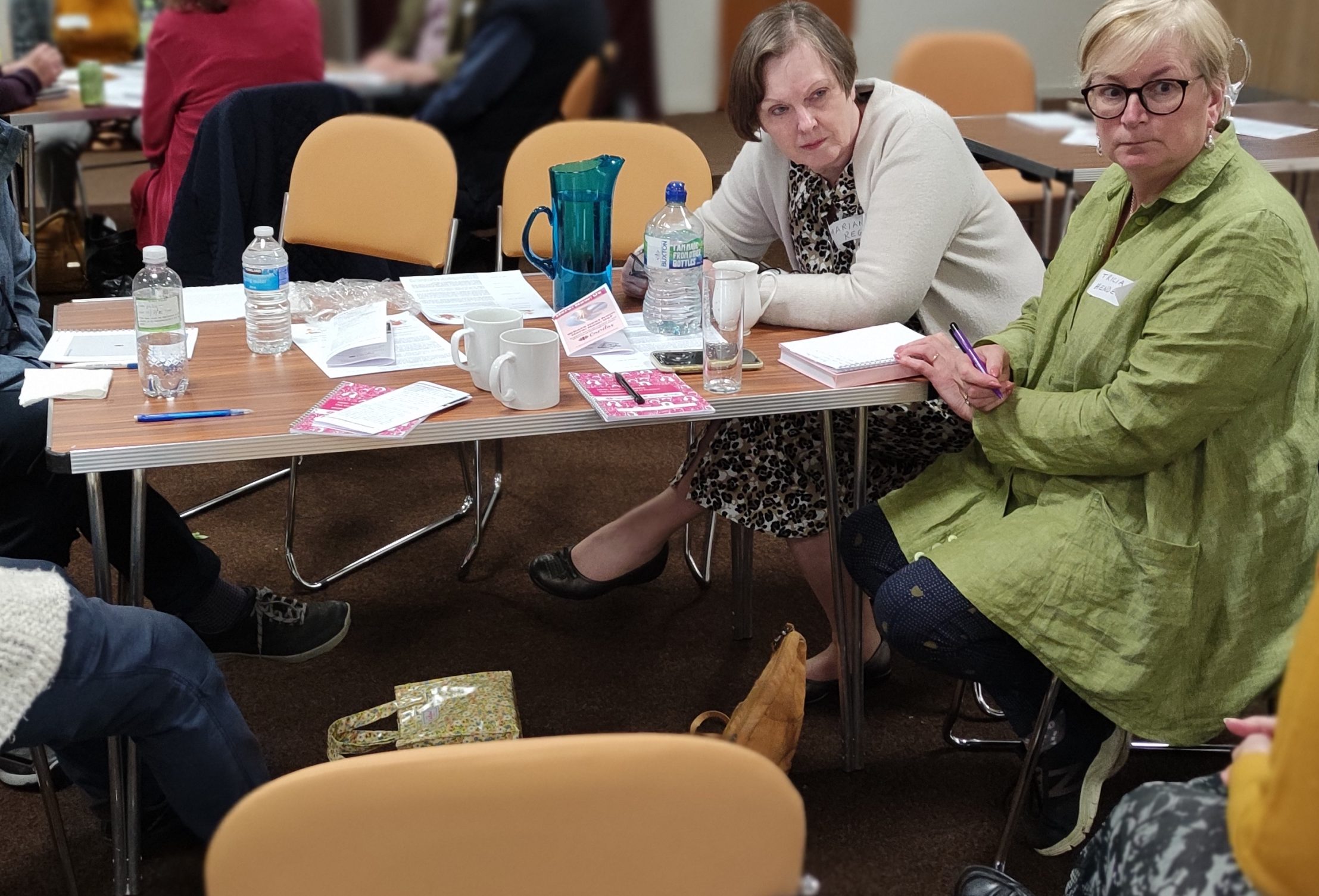 The three-part journey can run over 12 weeks or longer. Drawing from across the Christian traditions, the course is informed by the principles of Catholic Social Teaching and ecumenical collaboration between church leaders in Liverpool a generation ago.
Then, the churches worked together across their differences with local communities for civic renewal during a difficult time for the city. Today, T4CG updates this inspiration to revitalise the vocation of the church to re-engage with confidence in our own time of turmoil and deep change.
The Here: Now: Us People journey inspires and equips groups of church members to listen to what God is doing in their area, and to discern together how they are uniquely called to build the common good. Within the context of a trusted group, they encourage each other to fulfil their vocational responsibility.
By putting common good principles into practice and by working with others of different opinions and backgrounds, these groups journeying together are building local relationships and contributing to restoring trust and connection within their communities.

The Here: Now: Us People course also lends itself to adaptation: T4CG is currently partnering with the Prison Advice Care Trust (Pact) to design workshops that encourage parishes to support prisoners and their families.
Jenny Sinclair, Founder Director of T4CG said:
"We're excited that so many people are getting involved. The Here: Now: Us People journey makes explicit the connection between faith and action, and bridges the spiritual and the social. It acts as a catalyst to inspire church members to discern their calling in relation to their neighbours, and where they live and work. In this post-Covid period, equipping local people as common good leaders is a gift that churches can bring to help strengthen communities and contribute to civic and spiritual renewal."
Find out more