Our latest update
Churches around the country are now running our Here: Now: Us People common good course.
In this year's roll out, the programme is operating in over twenty locations from Grimsby to London, from Essex to Merseyside, from Kent to Derby and beyond.
In recent weeks, parishes in three Anglican dioceses across Greater London got to part two of the journey.
St Francis of Assisi in Petts Wood in the Diocese of Rochester ran the workshop in the vicarage dining room. In North London a group of parishes are doing the Common Good Journey together, with the support of Compassionate Communities in the Diocese of London. Meanwhile, St Peter's in Streatham, in the Diocese of Southwark ran the programme in conjuction with their Diocesan Mission Action Planning process.
Fr Steffan Mathias of St Peter's recognised that the resource worked well across all educational backgrounds, and the graphics helped everyone grapple with the key concepts of the Common Good like subsidiarity.
At the time of writing (February 2022), Alison Gelder of T4CG said:
 "We're really encouraged by how well received the programme has been and we're learning a lot about how to make it even better going forward. It's too early for any impact data yet but I'm excited by the enthusiasm of participants. Their desire to take it forward is clear, as is their motivation to play their part in the social and spiritual renewal of our churches and of our country."
So far our early observations show that:
69% of participants said they were "very likely" to stay involved going forward.
98% say "I can see how to apply Common Good principles in my personal or working life."
90% say "I have a better sense of my vocational responsibility and how God is calling me."
90% say "I intend to listen and speak to people in my neighbourhood, especially those who may feel left out or left behind, in order to understand their experience."
The three-part journey can run over 12 weeks or longer and cultivates a motivation to build local relationships based on mutual respect, friendship and reciprocity, especially with neighbours who are poor, and across class, ethnicity, background and opinion. The programme is based on Catholic social teaching and includes an entry-level introduction to its key principles. This roots church "outreach" and relationship building in a robust, accessible framework, reducing the risk of mission drift.
Typically groups doing the course consist of 12-20 people. Each group has a good mix of participants from the local area. No one is expected to have any theological formation or experience. The activities are interactive, prayerful, fun and inclusive.
Chris Knowles, project leader until the end of March, says
"Over the last 18 months we've realised that one of the most valuable aspects of the journey is that it takes the local context seriously. It is the opposite of a one-size-fits-all programme: while the content is constant, each iteration is unique, depending on the dynamic between the people in the room. It brings the richness of the Common Good to meet and engage with the realities of the local worshipping community."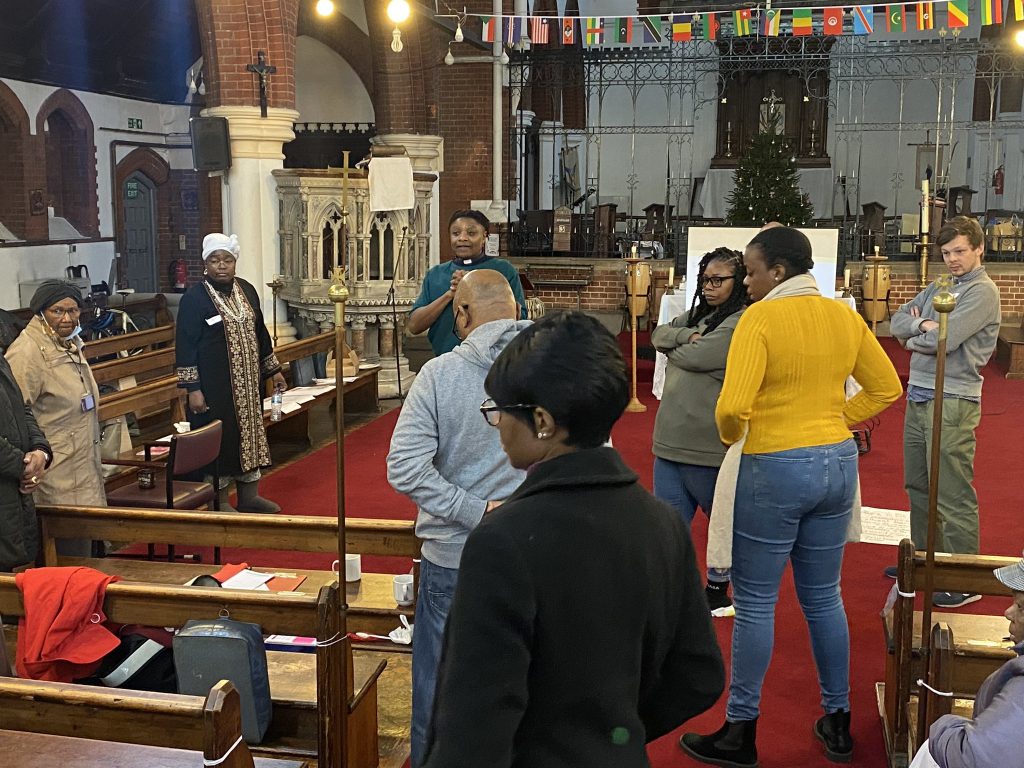 The three part journey was developed to help the local church play an authentically Christian role in civic and spiritual renewal. Despite their vulnerability, churches have a vital ingredient to bring to the places where they are situated, by renewing their covenantal relationship with people and with place.
Some of the Catholic parishes involved are finding that the programme helps to support the synodality process initiated by Pope Francis. The Common Good journey fosters a culture of synodality in a parish, embodying the practical, spiritual and theological aspects. For those who ask "but what does synodality look like?", people are saying "It looks like this kind of journey."
Meanwhile some of the Anglican parishes involved are finding that the journey buids their confidence as they discern their unique vocation within established local relationships. Later this year, T4CG hopes to take the journey forward with churches from the Free Church traditions too.
To find out how your church, diocese or parish can get involved, please email Louise Lambert at louise@togetherforthecommongood.co.uk or click here.
The programme is also being adapted to encourage prison volunteering in parishes
T4CG is currently partnering with the Prison Advice Care Trust (Pact) to adapt the Here: Now: Us People course into workshops that encourage parishes to support prisoners and their families.
Pact's JustPeople workshops are designed to engage parish-based volunteering to support prisoners' families and other prison-related volunteering roles for Pact. The workshops will suit anyone wanting to put faith into action by connecting in a practical way with some of the most socially disadvantaged people in the community.
JustPeople workshops include reflection on Scripture and Catholic Social Teaching through the lens of people affected by imprisonment. Available both online and on-person, they are free to attend, come with no strings attached and provide a space for people to discern the Lord's call to social justice and promote the Common Good in our communities.
Workshops are taking place in February and March 2022. To find out more and to book a place, please email Marie Norbury at marie.norbury@prisonadvice.org.uk.