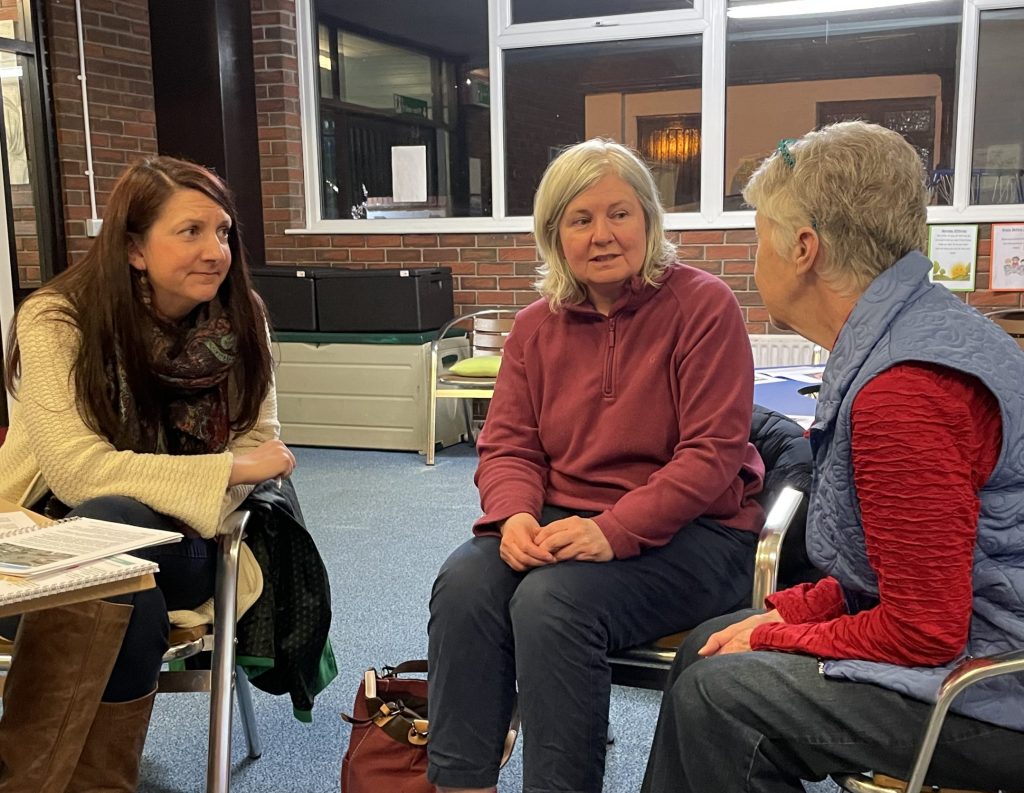 Our latest update: evaluation
Our Common Good Journey is designed to help church goers and their churches play an authentically Christian role in civic and spiritual renewal. We believe that churches have a vital ingredient to bring to their neighbourhoods, by renewing their relationship with people and with place.
Over 2021-2022, we've been working with partners to run our Common Good Journey programme in locations across England, as we've shared in our February and November updates, including several dioceses and individual parishes, each of whom are at different points along the journey. Despite the disruption caused by Covid-19, all have stayed on board and their enthusiasm has been fantastic to see.
We commissioned Theos to carry out an independent evaluation of the effectiveness of the programme. Hannah Rich observed and interviewed participants and her findings are very encouraging. This article summarises her report.
The research approach
At the beginning of the evaluation period the programme had three parts to it, and was called Here Now Us People. The ongoing impact of Covid-19 meant the report mainly focused on Part 2 – an intensive one-day workshop exploring common good thinking and practice – with 71% of participants having already engaged with scriptural reflection in Part 1. The participant profile largely reflected the typically older, whiter, profile of congregations, although approximately 16% participants were from an ethnic minority background. Drawing on 134 evaluation forms and 27 phone interviews, Hannah explored how the workshop prepared participants for the transformative work coming in Part 3.
"I was pleasantly surprised that people wanted to continue the theme once it was over. I think I thought it would be a one-off and fizzle out, but it has grown. It's like seeing little buds coming through in my garden. It's a green shoot that has grown up between our parishes. My hope is that it will grow from there. The whole history of Christianity has been like that really, little green shoots."

Participant
Positive findings
We were delighted with the findings.
82% of respondents agreed or strongly agreed that the workshop was effective, both in terms of learning about common good and sense of vocational responsibility and in terms of motivation to continue journeying together.
84% agreed or agreed strongly with the statements: "As a result of today, I can see how our church can be revitalised by building relationships" and "As a result of today, I have a better sense of how we, as a church, can contribute to the renewal of our area."
When asked what they would do differently, participants were strongly motivated to engage with the neighbourhood, saying they would participate more in the community through listening and action, build local relationships, and make connections with existing local projects.
Participants also welcomed the chance to meet and share with others to focus on building the common good with local people and institutions. All those interviewed by phone said they intended to recommend the programme to others, and stressed the value of in-depth focus on the common good.
The programme's flexibility and adaptability to each cohort's needs was seen as a real strength.
Cohorts derived from multiple churches noted how the programme had strengthened relationships between them, and the same was true of cohorts drawn from different congregations in a single church.
There were clear benefits from the overall process and methodology, which impacted as much as the material and content itself.
There was notable enthusiasm for the practical and interactive elements, appreciation of the case study stories, and the workbook was valued as a tool for ongoing learning and reflection.
Theos's report covered activity up to early March 2022, by which time most cohorts had not yet started Part 3. There was an overwhelming commitment to continue the journey – to deepen relationships, strengthen discipleship and empower lay leaders.
The programme was felt to be key in bringing church communities back together after a traumatic year, both to rebuild in terms of post Covid recovery but also to generate new energy for renewal. The programme's adaptability with zoom was a strength, with some groups planning to retain a hybrid mix.
Synergies with synodality: Catholic participants saw striking synergies between the programme and the synodal process now taking place globally, noting how T4CG themes and processes model what Pope Francis is asking all Catholics to think about. One commented: 'What will synodality look like? It'll look just like this'. The programme clearly has potential as a complementary process to the Synod.
"It's been so helpful in moving us into a more synodal way of being and doing, that accompaniment ideal of being there for that moment and to encourage the next step without saying what that next step will be. We are formed ready to listen. They've got the method. The content was great, but it was the process that really took root here; the process of listening to the Spirit and listening to each other. In the people who did the programme, we've got a brilliant ready-made group of facilitators for our synod conversations."

Participant
Areas to improve
Theos recommended that to strengthen the programme further, T4CG should increase the popular interactive content and add a glossary; change the programme name to what cohorts themselves were colloquially using – Common Good Journey; develop Part 3 further; clarify partners' roles; strengthen facilitator training and cohort recruitment approaches; provide stronger guidance for churches taking part, emphasising hospitality and briefing of facilitators on local context.
Getting beyond the usual faces
The method of engagement was found to be key. Partners who relied on impersonal, standard marketing such as church newsletters, posters and social media tended to attract people already involved in church life. However, partners intentionally approaching potential participants personally, following T4CG's guidance, were successful at building a good mix, including many new faces.
Thank you for reading about our findings. The full evaluation report from Theos is available from T4CG on request and a summary can be downloaded here.
This work was funded by grants from the Charles Plater Trust and the Jesuit Social Justice Fund. We are grateful to them and to all our partners for making this possible.
Find out about the Common Good Journey and how to get involved here